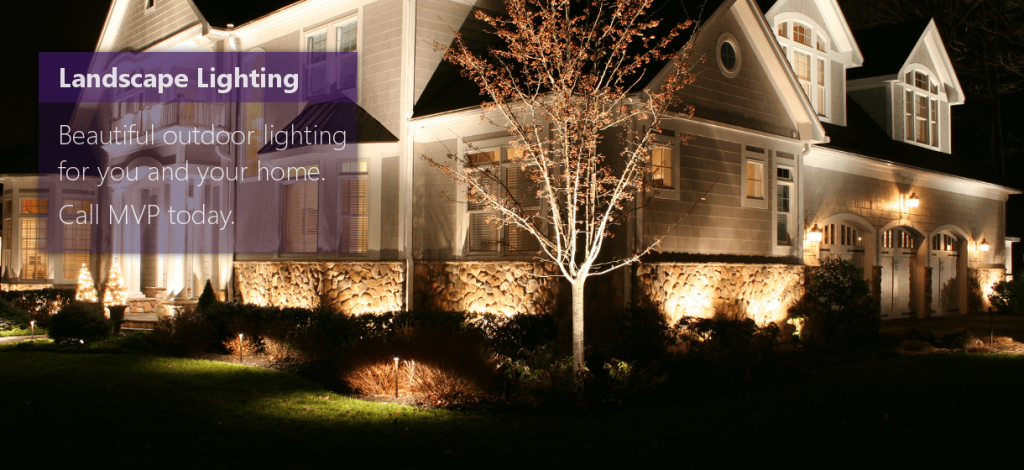 Low Voltage Landscape Lighting
"I can't believe the difference the landscape lights make. Our backyard went from being completely dark – to looking like we live on an estate!"

"We're getting so much more use and enjoyment out of our property at night."
There is no better way to boost your home's curb appeal than to install a thoughtfully-designed low voltage landscape lighting system.
While adding landscape lighting to your front yard increases the beauty of your home, adding landscape lighting to your backyard will significantly increase your usage and enjoyment of your property.
People often cannot appreciate the dramatic difference the lighting makes until they actually see the finished product on their own property. The lighting opens a whole new world for families.
Summer nights will find you outside enjoying your property. And in the Winter months, your property will glow as you enjoy the view from the warmth of your house.
Cast Lighting Brand
MVP Irrigation uses only Cast Lighting brand fixtures for all of its outdoor lighting projects. Cast Lighting are made with brass and copper so you can be sure they are durable and will last. They have a great warranty program for all of their parts and transformers.
It probably goes without saying, but just in case – your landscape lighting installation includes a timer so there is no forgetting the turn the lights on or forgetting to turn them off. Your lighting is on when you want it and off when you want it – automatically, first time, every time.
And, low voltage lighting is a money saver! So say goodbye to tacky flood lights and step up to some elegant low voltage landscape lighting.